Across performance, video, installation, and writing, Tanya Lukin Linklater's works draw on orality, conversation, and embodied practices. Lukin Linklater's Alutiiq/Sugpiaq homelands are in the Kodiak archipelago of Alaska, and she now lives in Nbisiing Anishinaabeg aki in Northern Ontario. Her practice intertwines research in relation to an awareness of time and place as she looks to Alutiiq/Sugpiaq knowledges of lands, waterways, and atmospheres.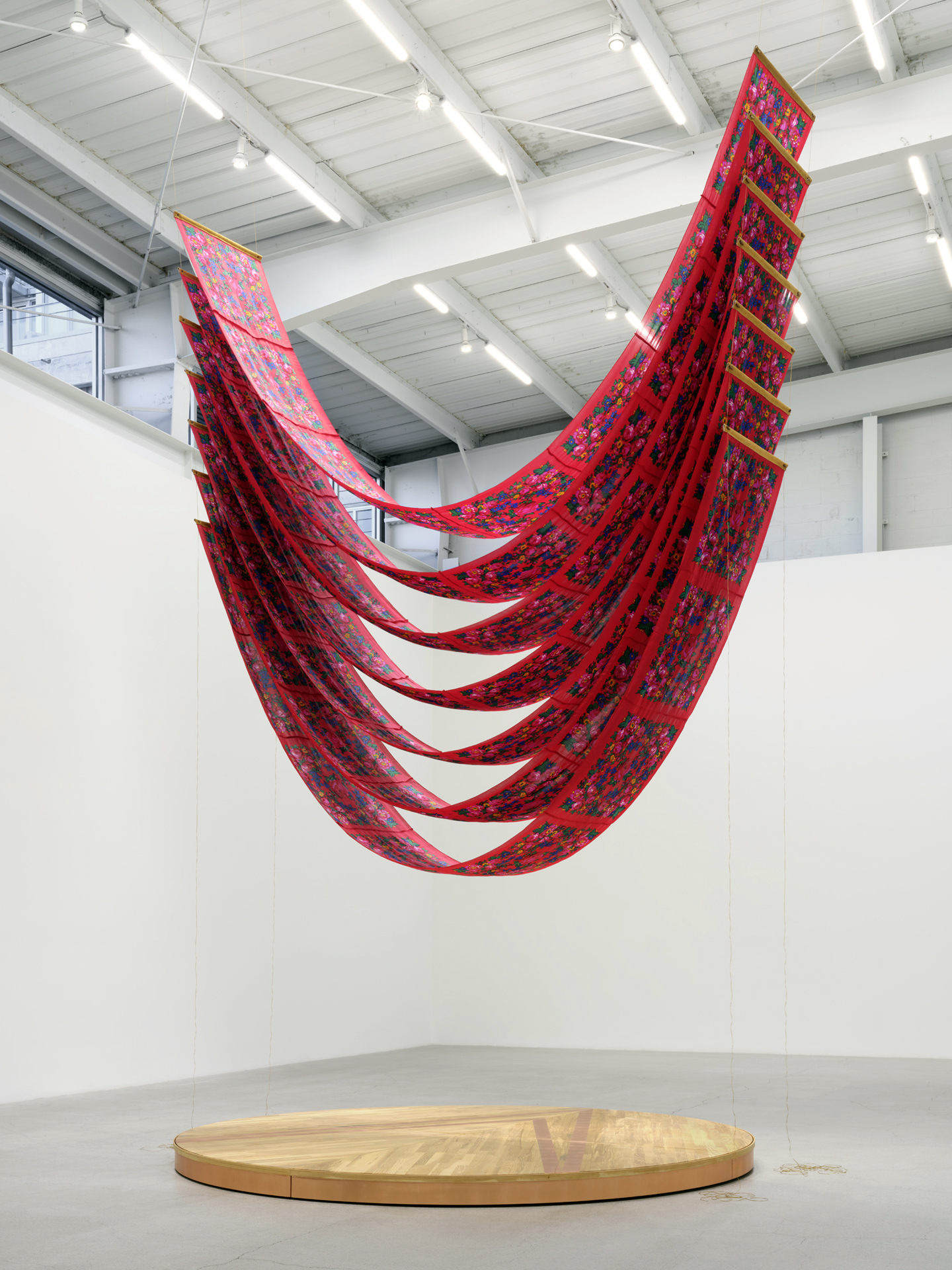 Tanya Lukin Linklater, Held in the air I never fell (spring lightning sweetgrass song), 2022. Kohkom scarves, thread, hide, ash, copper, artificial sinew. Courtesy of Catriona Jeffries. Photo credit: Rachel Topham Photography.
In Summer 2024, the
Wexner Center
will realize a solo presentation by Lukin Linklater that expands on
My mind is with the weather
(2022-ongoing), a body of work that investigates weather as an environmental and social organizing form. The Wex exhibition will feature a new work developed from open rehearsals in Ohio with dance artists, alongside a sculptural commission and other new works. It will be Lukin Linklater's first major U.S. solo exhibition.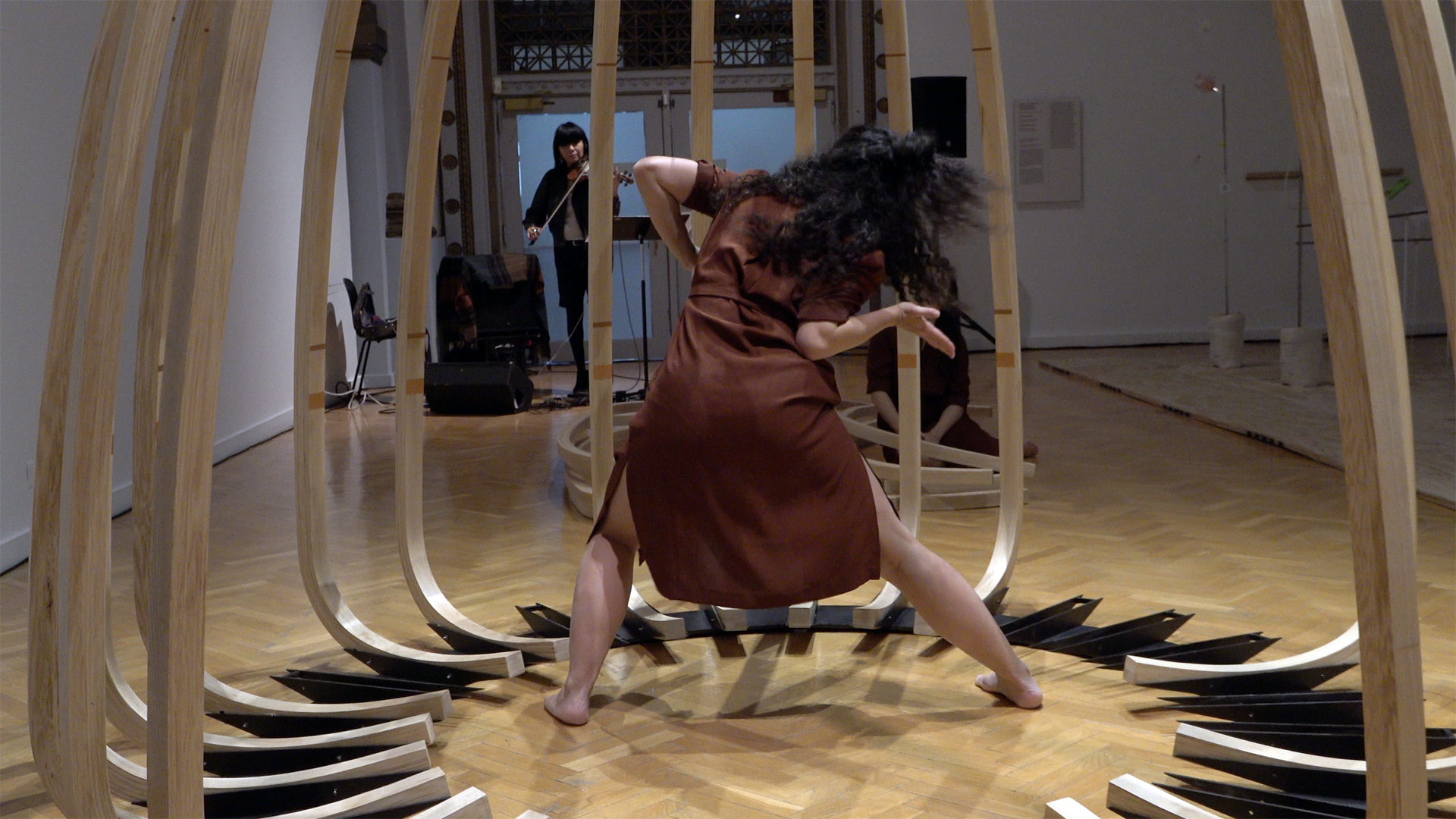 Performance view, Tanya Lukin Linklater, A song, a felt structure: We are putting ourselves back together again, 2019. Performed in relation to Tanya Lukin Linklater and Tiffany Shaw-Collinge, with Laura Ortman, Ivanie Aubin-Malo, and Ceinwen Gobert, Indigenous geometries, 2019, on view in …and Other Such Stories, Chicago Architecture Biennial (September 15, 2019–January 20, 2020). Courtesy of Catriona Jeffries. Photo credit: Neveen Lochhead.
Organized by Kivland, the exhibition will serve as the culmination of a two-year residency. An untitled work that stems from the residency will include embodied inquiry at outdoor locations around Columbus. The inquiries will involve Lukin Linklater's open rehearsals—critical to her practice—that are carried out "through ample conversation, improvisation, and questions" she asks regarding ongoing colonialism(s), endurance, sensation, and the uneven lived experiences of bodies.
Ohio was a primary site of forced migration of tribal nations due to the 1795 Treaty of Greenville, signed in present-day Greenville in western Ohio, and Indian Removal Act of 1830. The Wexner Center occupies the ancestral and contemporary territory of the Shawnee, Potawatomi, Delaware, Miami, Peoria, Seneca, Wyandotte, Ojibwe, and many other Indigenous peoples, and is situated on land ceded in the Treaty of Greenville.
Lukin Linklater's exhibition is a continuation of Kivland's focus on embodied practice and cross-cultural collaboration and aligns with her commitment to supporting women artists through commissioning new work that initiates pivotal advances in their practice.