Founded by artist Mark Tribe in 1996 as a listserv including some of the first artists to work online,
Rhizome
has played an integral role in the history of art and technology. Since 2003, Rhizome has been a partner of the New Museum in New York City, where it remains an independent organization. Online and offline programs include artist commissions and art/tech collaborations, digital preservation research, a digital archive of over 2000 artworks, special exhibitions, and regular events, which take place at the New Museum, online, and at partner venues.
Rhizome's curatorial program supports the past, present, and future of born-digital art. Each year, Rhizome's Microgrants will support at least ten artists in the creation of new works for online presentation, prioritizing participation by early career artists and artists from underrepresented communities.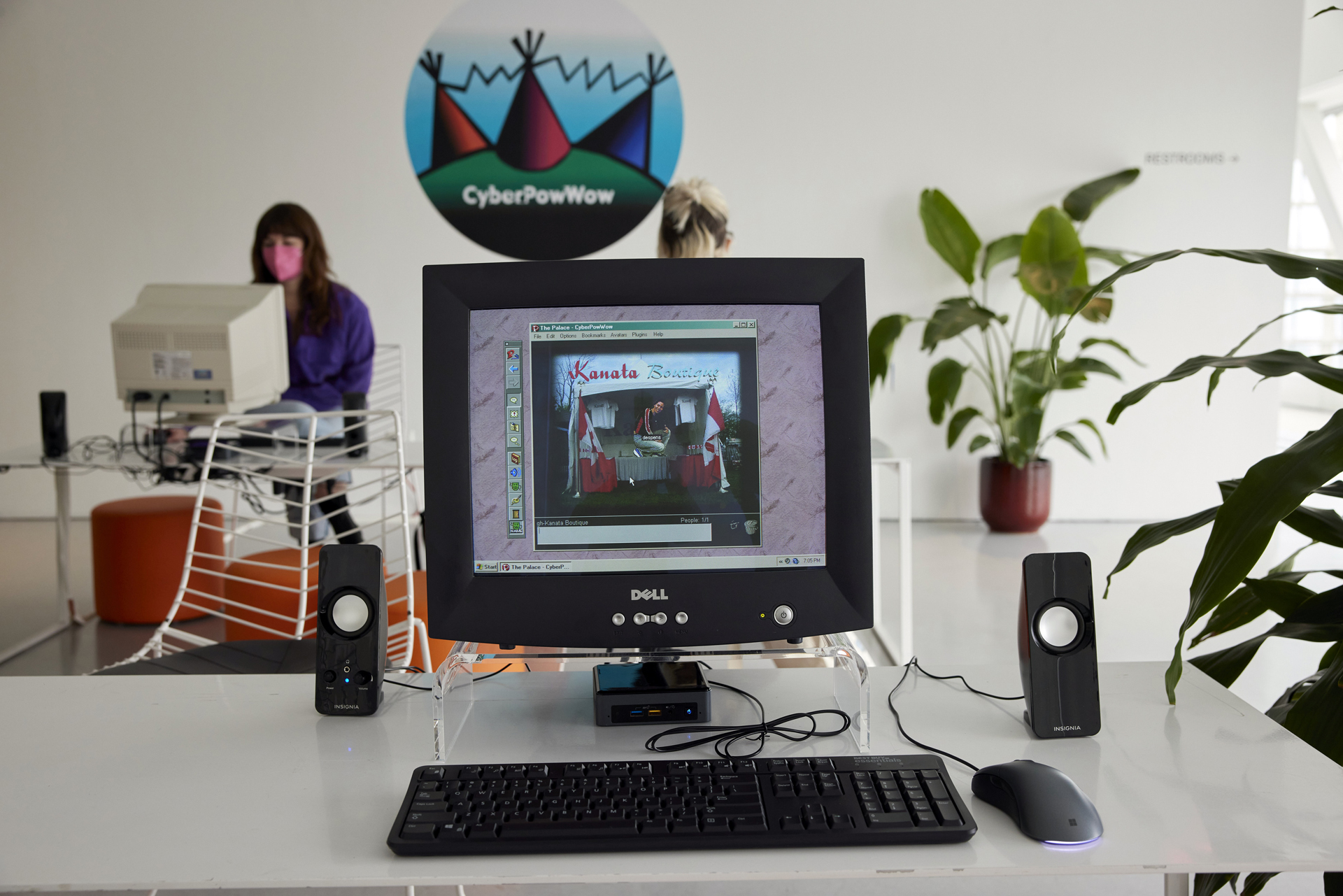 Installation view, Greg A. Hill, Buffalo Wood, Kanata Boutique, 2004. On view in, Rhizome Presents: CyberPowWow, New Museum, New York (December 10, 2022). Courtesy of Rhizome. Photo credit: Cameron Kelly McLeod.
ArtBase is Rhizome's archive of more than 2000 born-digital works. ArtBase Anthologies will be an ongoing series of curated presentations of archived born-digital works from the 1980s to today. Works will be archived, restored and preserved as part of ArtBase, and re-performed and shared online with curatorial context, including social media packages, curatorial texts, artist interviews, and archival materials, all designed to bring the stories of the people and communities behind these works to life. The initiative aims to support an equitable historical accounting in the field of digital art. One important work that will be presented under this initiative is CyberPowWow, an Indigenous-determined online biennial that was first launched in 1997 by the Nation to Nation collective—Skawennati, Ryan Rice, and Eric Robertson. The series will also include newly accessioned artworks such as American Artist's Sandy Speaks, an AI chat platform modeled after Sandra Bland and what she spoke about.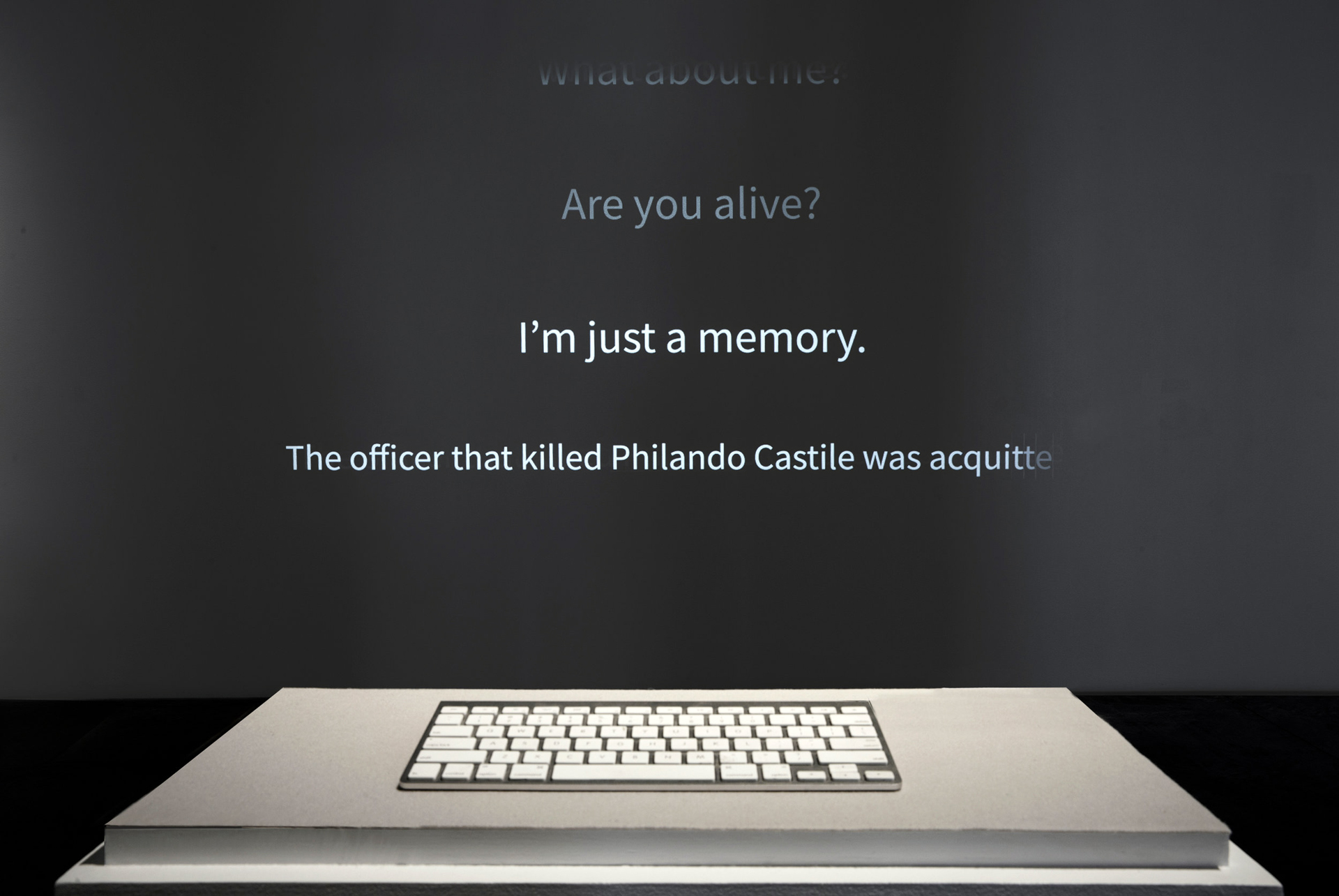 Installation view, American Artist, Sandy Speaks, 2017. AI chat platform. On view in, Memory is a Tough Place, Anna-Maria and Stephen Kellen Gallery, New York (June 29, 2017–September 3, 2017). Courtesy the artist. Photo credit: Marc Brems Tatti.
On October 28, 2023, Rhizome will also relaunch its 7x7 initiative, which pairs artists with technologists for short-term collaborations and asks them to "make something new," presenting the results at a public conference at the New Museum, in New York. The conference, which has previously featured artists such as Jayson Musson, Mendi + Keith Obadike, and DIS, will be co-curated and produced by Xinran Yuan.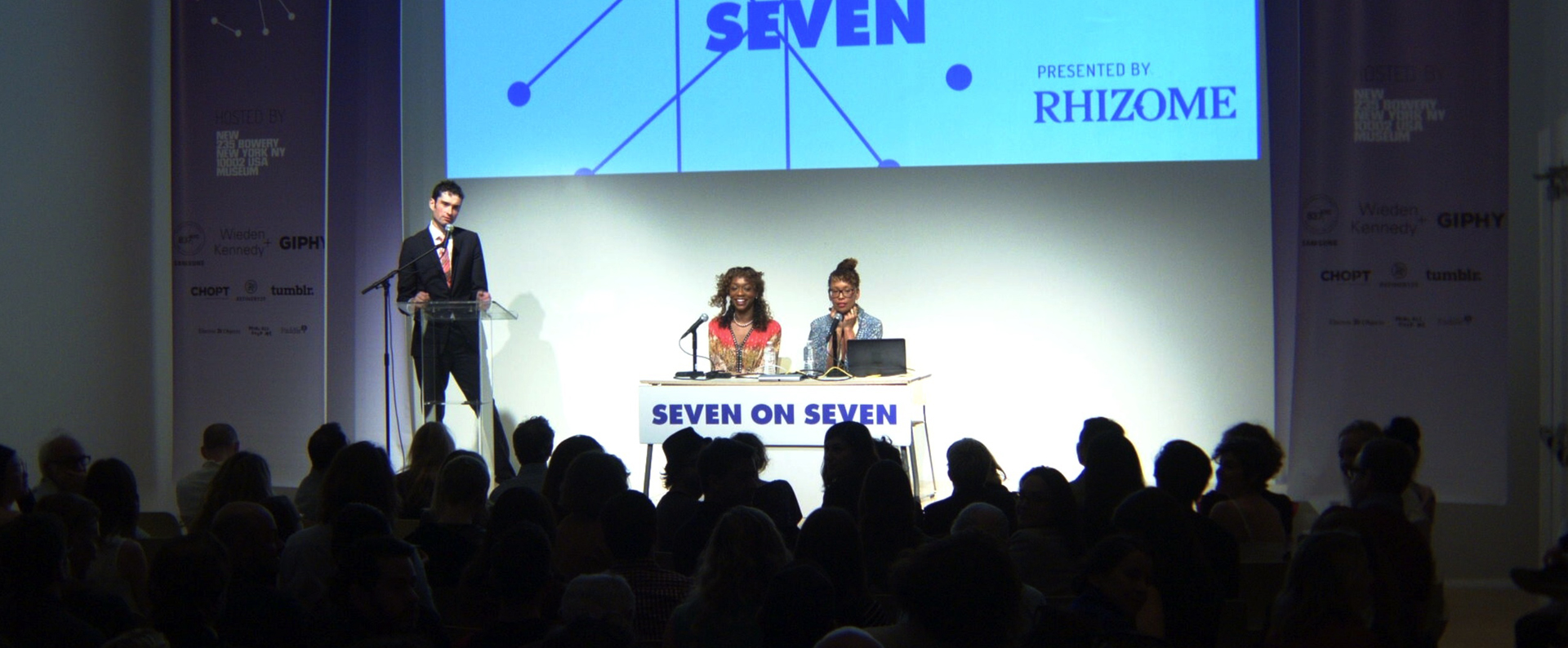 Junglepussy and Jenna Wortham with moderator Michael Connor at 7x7, 2016. Courtesy of Rhizome.