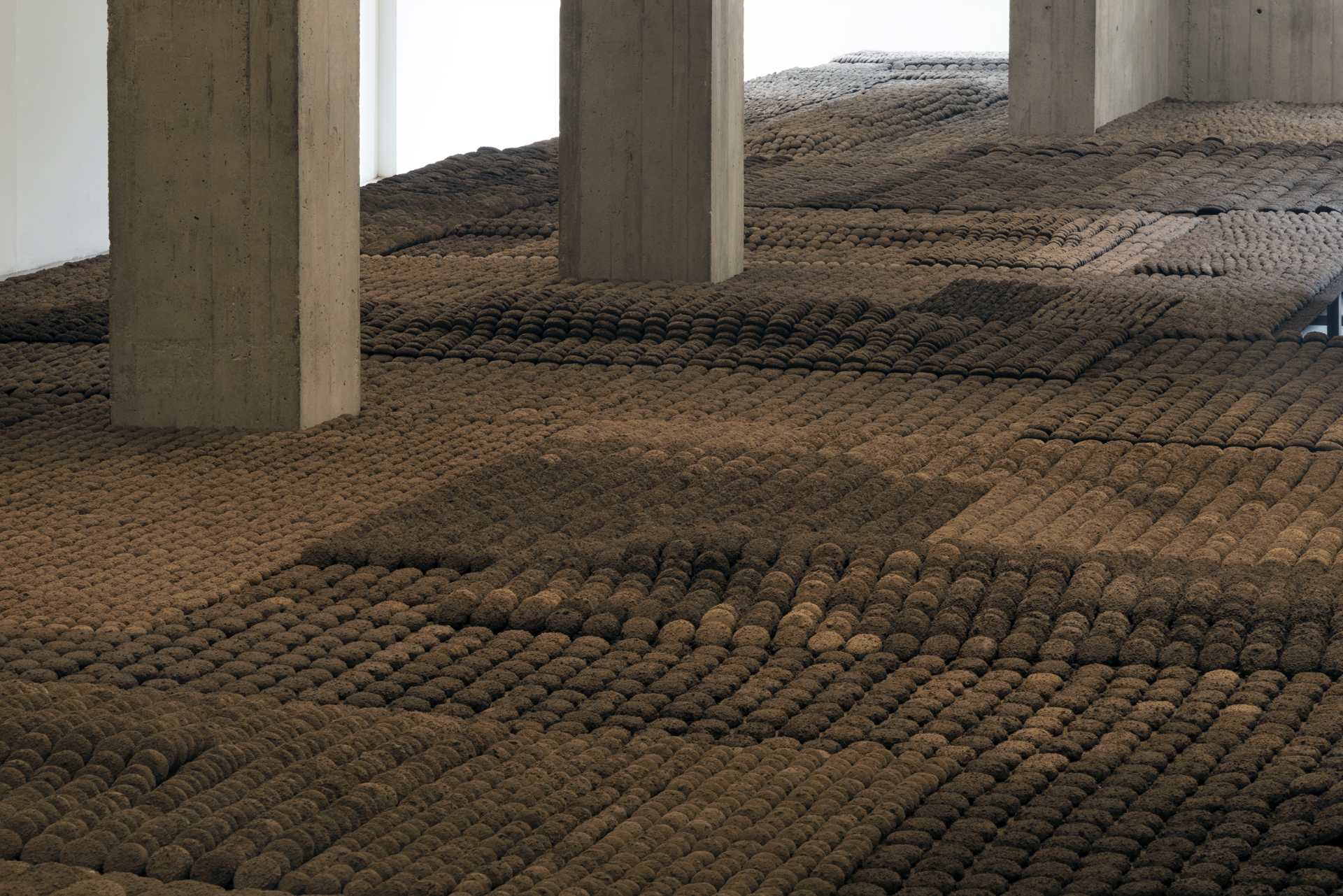 Installation view, Delcy Morelos, Enie, 2018. On view at NC-arte, Bogotá (October 20–December 15, 2018). Collection of Ernesto Monsalve. Courtesy of NC-arte.
This solo exhibition of Delcy Morelos–the Colombian artist's first major commission in the United States–is grounded in the artist's belief that "the earth is both the stage and the protagonist of myths, history, origin and present." Morelos' practice considers the dependencies between natural and built environments through Indigenous relations to land. The artist was born in 1967 in Tierralta in the Colombian department of Córdoba, a region at the center of twentieth-century confrontations over territory and rural land reform. She began her career as a painter but has since spatialized her work to consider the relationship between surface and support while at the same time exploring the earth as a pigment. Since 2012 she has been researching the cosmologies of ancestral Andean and Amazonian cultures and the sustaining powers of water and clay in these origin stories.
Two installations at
Dia Chelsea
will take soil, territory, and topography as their points of departure. Morelos will coat the surfaces of one gallery with dirt sourced from Goshen, New York, considered some of the most fertile soil in the United States. Within this expansive field, stacks of salvaged, soil-encrusted building materials will be interspersed with mounds of clay. Morelos's second installation will consist of a trapezoidal structure constructed of aromatically-infused mud. Hovering above the ground and pushing against the ceiling, the work draws on the visual vocabulary of ritual structures such as mastabas, temples, and ziggurats, as well as the mountainous topographies that in turn inspire these forms. It also recalls iconic minimal sculptures that have their own complex relationships to ritual architecture. Constructed from earthen materials that approximate the properties of peat, the sculpture is intended to evoke the smells and textures of this vital yet vulnerable resource in the fight against climate change, without participating in the extractive processes that jeopardize the world's peatlands.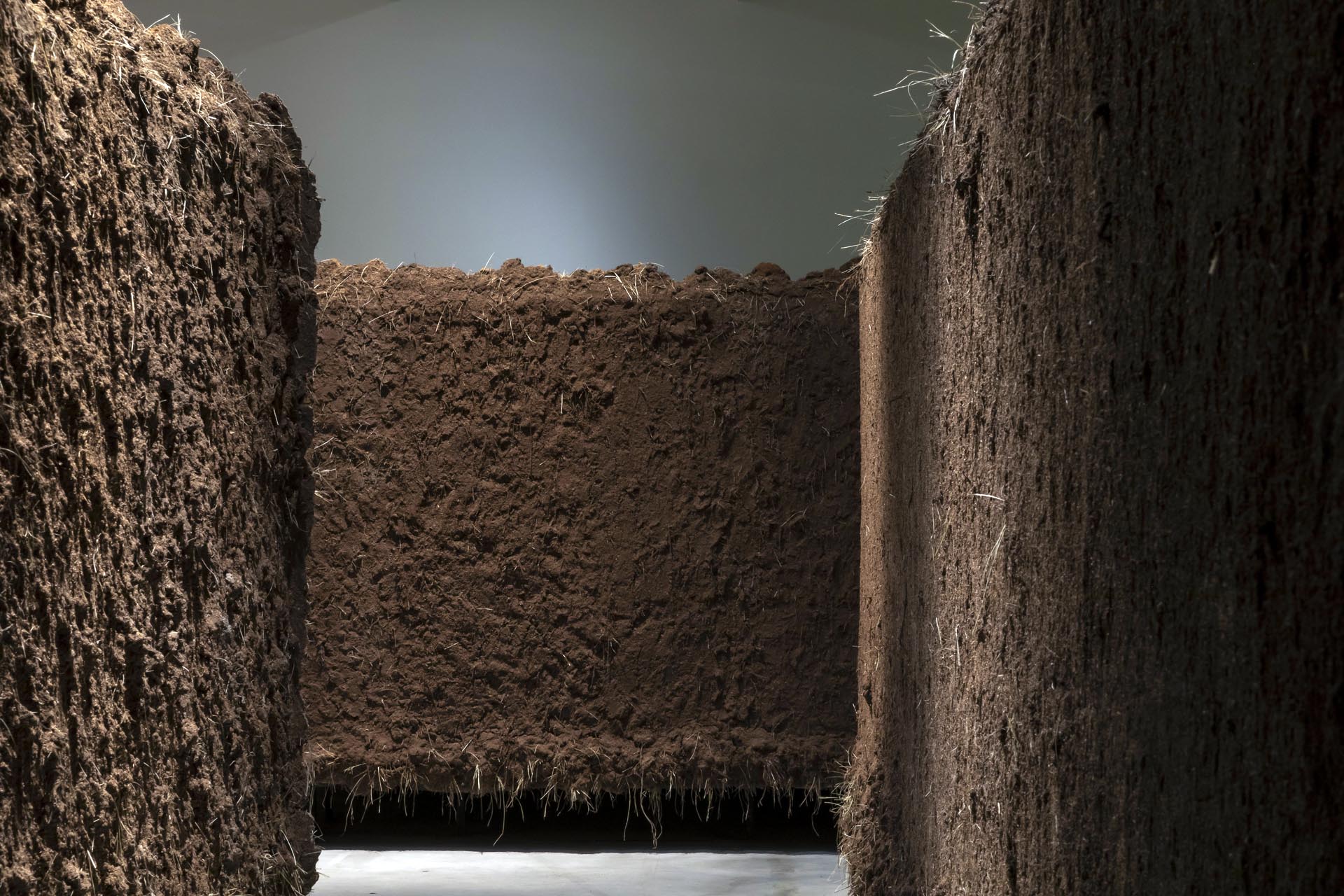 Installation view, Delcy Morelos, El Lugar del Alma (The Place of the Soul), 2022. On view at the Museo de Arte Moderno de Buenos Aires (June 25, 2022–October 29, 2023). Courtesy of Museo de Arte Moderno de Buenos Aires.
Within the context of Dia—an institution in part defined by its support of land art—Lowry sees this commission offering a critical new perspective to the field, reorienting considerations towards embodied forms of material and ecological knowledge. This project is organized with support from curatorial assistant Zuna Maza. Morelos's exhibition will be accompanied by the first US publication dedicated to the artist's practice, published in English and Spanish.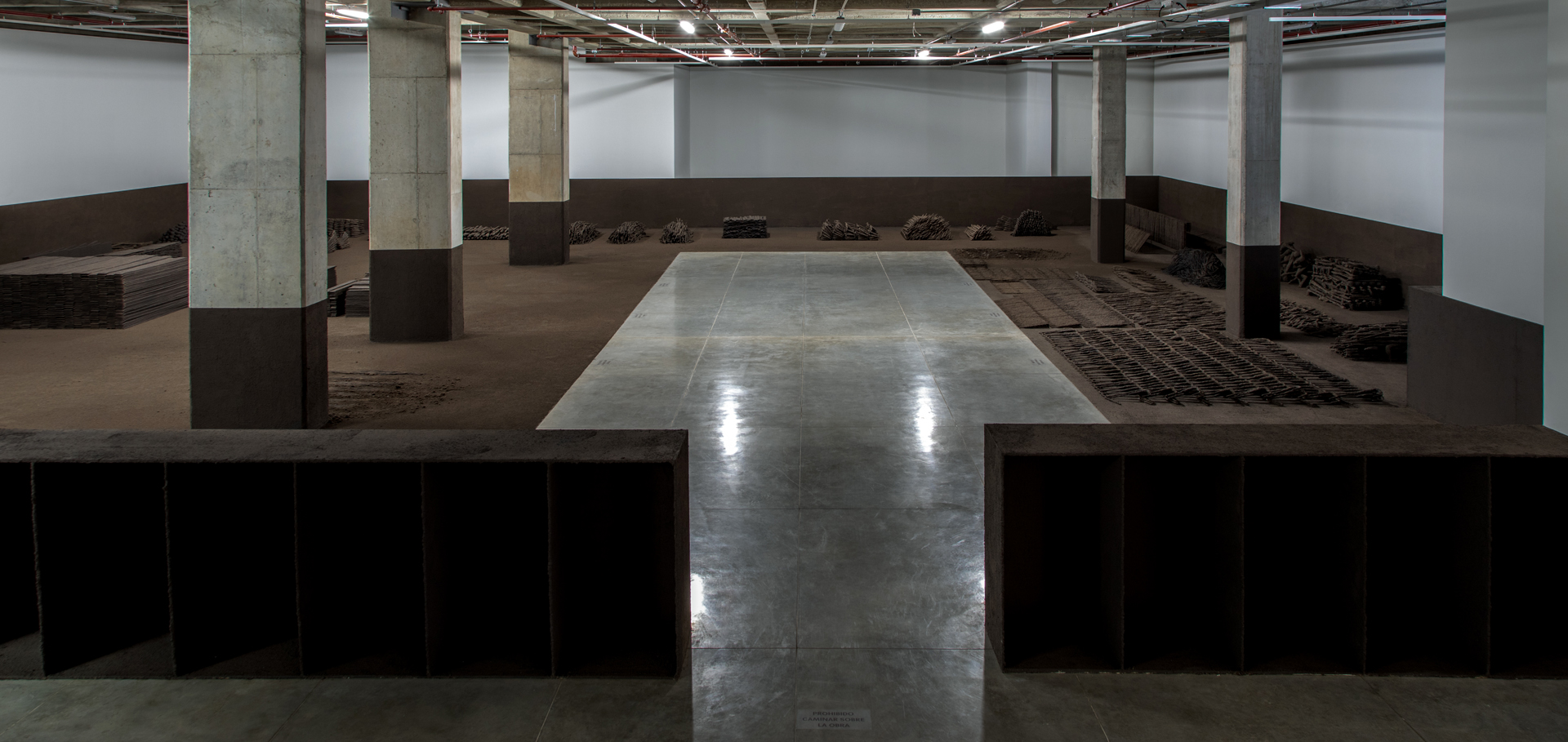 Installation view, Delcy Morelos, Moradas (Dwellings), 2019. On view at Galería Santa Fe, Bogotá (December 12, 2019–January 24, 2020). Courtesy of Laura Imery y Ernesto Monsalve.