David C. Driskell and Friends: Creativity, Collaboration & Friendship
highlights the artistic legacy of artist, scholar, collector, and curator David C. Driskell (1931–2020) and his working friendships with fellow artists—many of whom have a significant place in the art canon.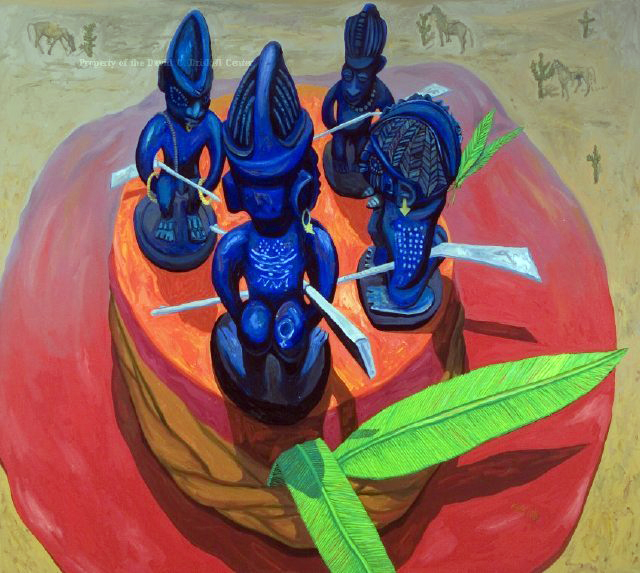 Keith Morrison, Posse, 1994. Oil on canvas. Gift of Margaret Burnwalt. © Keith A. Morrison, 2011. Courtesy of the David C. Driskell Center. Photo credit: Greg Staley.
Georgia-born and North Carolina-raised, David C. Driskell completed the art program at Skowhegan School of Painting and Sculpture in Maine in 1953. He received an undergraduate degree in art from Howard University, and an MFA from The Catholic University of America, and eventually worked primarily in collage, mixed media, and printmaking. As a curator, he organized over 35 exhibitions of work by fellow Black artists, including Two Centuries of Black American Art: 1750–1950 (1976) which traveled around the country and became foundational to African American art history. Equally revered as a teacher, Driskell held positions at Howard and Fisk Universities, and from 1977 until his retirement, was on the faculty at the University of Maryland, College Park, where he was named Distinguished University Professor of Art in 1995. In 2001, the University established the Driskell Center, which now holds a majority of Driskell's original artworks and papers.
In 2021, Holton began discussions with Sincavage and Bergman (formerly Executive Director of UCR ARTS) about jointly organizing an exhibition centered on the work of Driskell and his community of artists. The curators were equally inspired by David Driskell's story and achievements and enthusiastic about organizing the first exhibition on the subject. David C. Driskell and Friends presents the Driskell Center's holdings in dialogue with works by influential figures such as Hale Woodruff, Elizabeth Catlett, Jacob Lawrence, Keith Morrison, James Porter, Alma W. Thomas and William T. Williams. The exhibition aims to prompt audiences to discuss the importance of collaboration and the creative process while broadening the appreciation of African-American art and cultivating a generational understanding of relationship-building.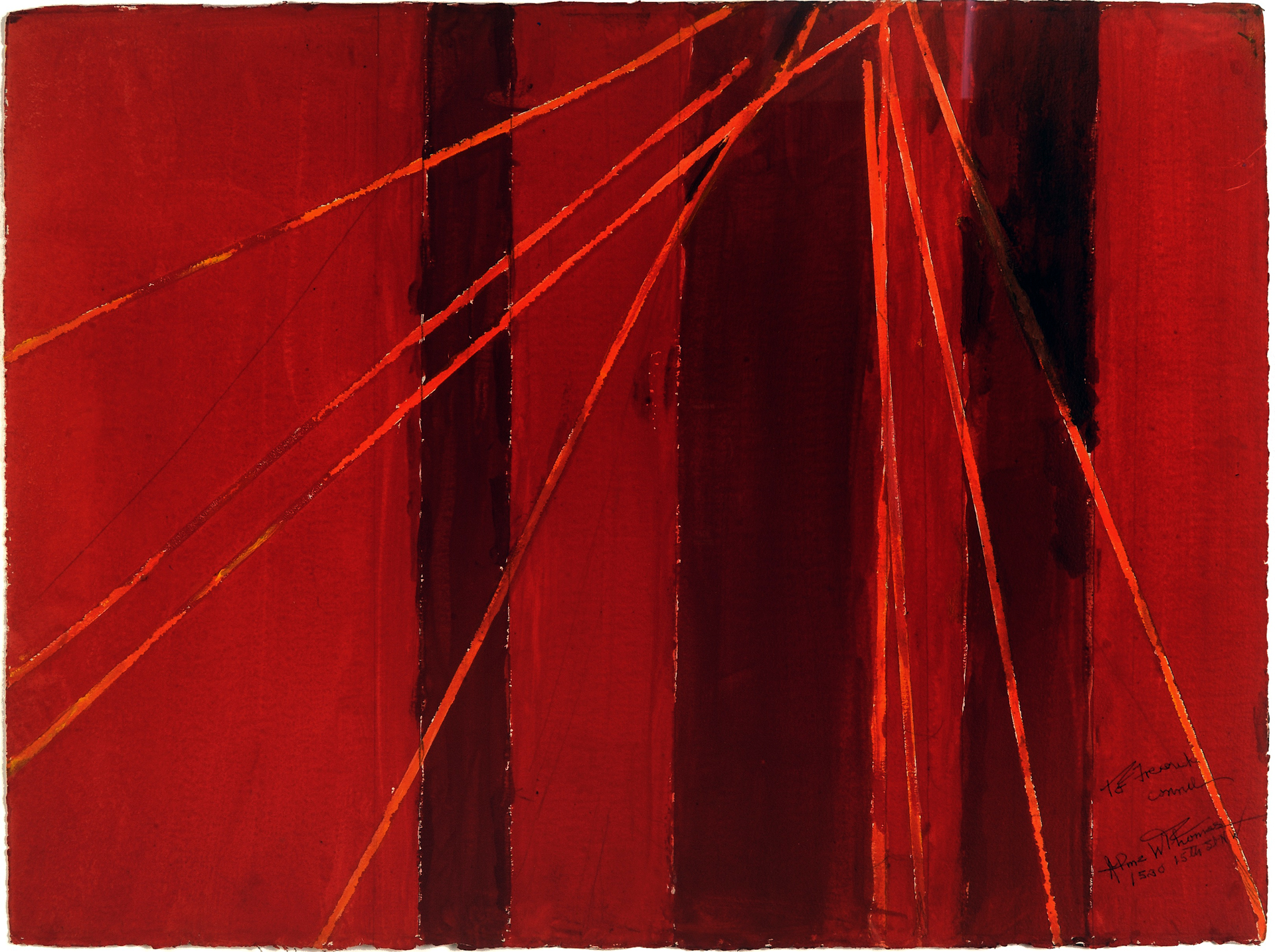 Alma Thomas, Red Abstraction, c.1975. Watercolor on paper. Gift of Nene Humphrey from the Benny Andrews and Nene Humphrey Collection. Courtesy of the David C. Driskell Center. Photo credit: Greg Staley.
David C. Driskell and Friends
was first presented at
Wilkes University
in November 2022 and will open at
UCR ARTS
in September 2023, before traveling to the
Driskell Center
in February 2024, and the University of Pennsylvania in June 2024. The exhibition is accompanied by a catalog co-published by and offered free of charge at each partnering venue. It features artwork images, historical photographs, and extensive material on Driskell's life and works alongside essays by the co-curators.