Shifting Center
stages the process of listening to infrasonic landscapes, acoustic architectures, and unsounded instruments. The exhibition will comprise sculptural, moving-image, and spatial-audio installations presented throughout
EMPAC
's concert hall, proscenium stage, and studios.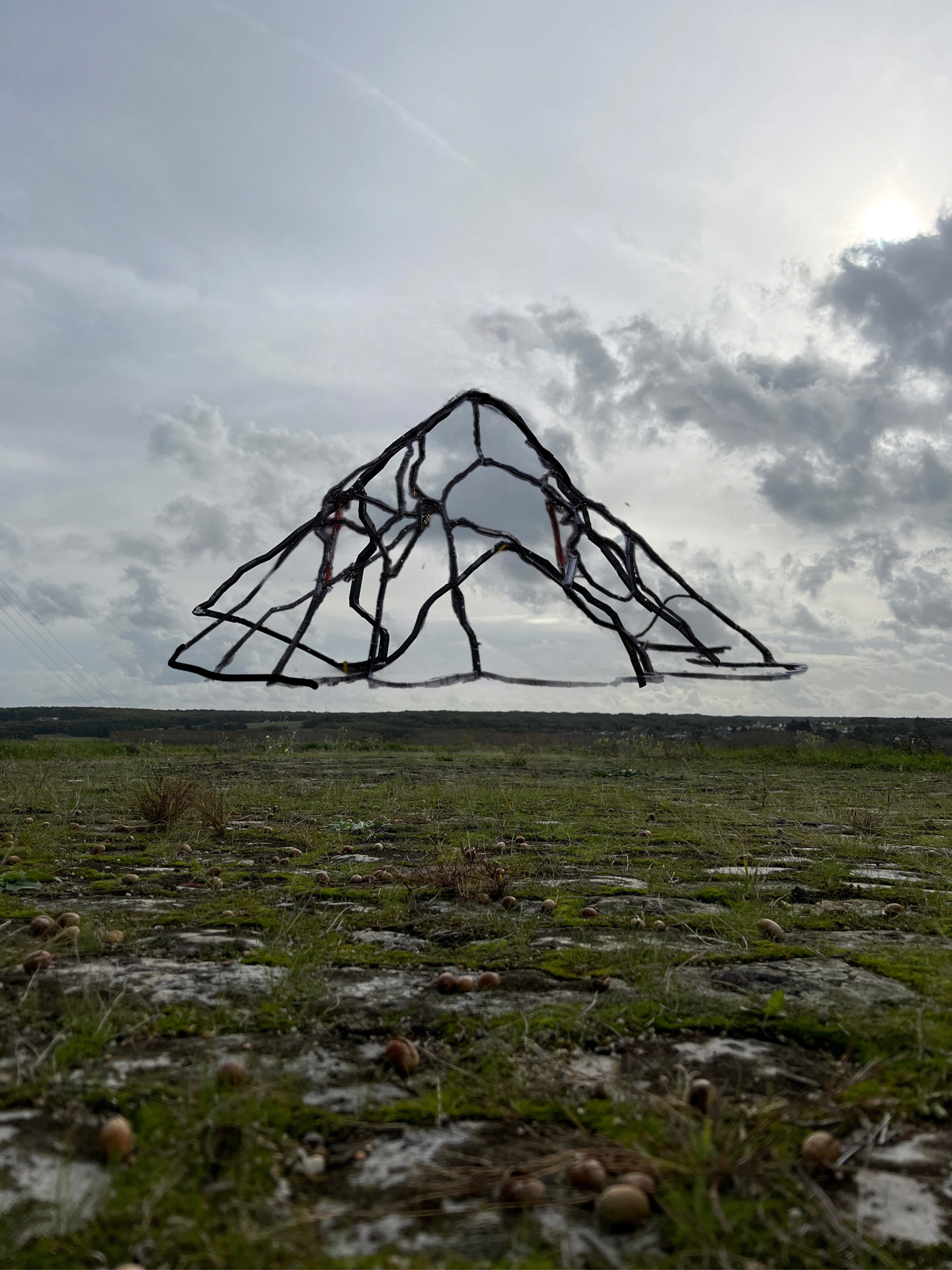 Beatriz Cortez, Study for Ilopango, The Volcano that Left, 2023. Composite Image. Courtesy the artist and Commonwealth and Council. Photo credit: Phillip Bryne.
A "shifting center" is a technical term from the field of acoustics that describes the perceived dislocation in the position of a sound source. The exhibition considers two opposing tendencies: dislocation—how objects, artworks, and cultural belongings are taken from their original context and silenced through the mechanisms of museological preservation and display—and location—how architecture and acoustics affect exhibitions as resonant spaces of situated listening.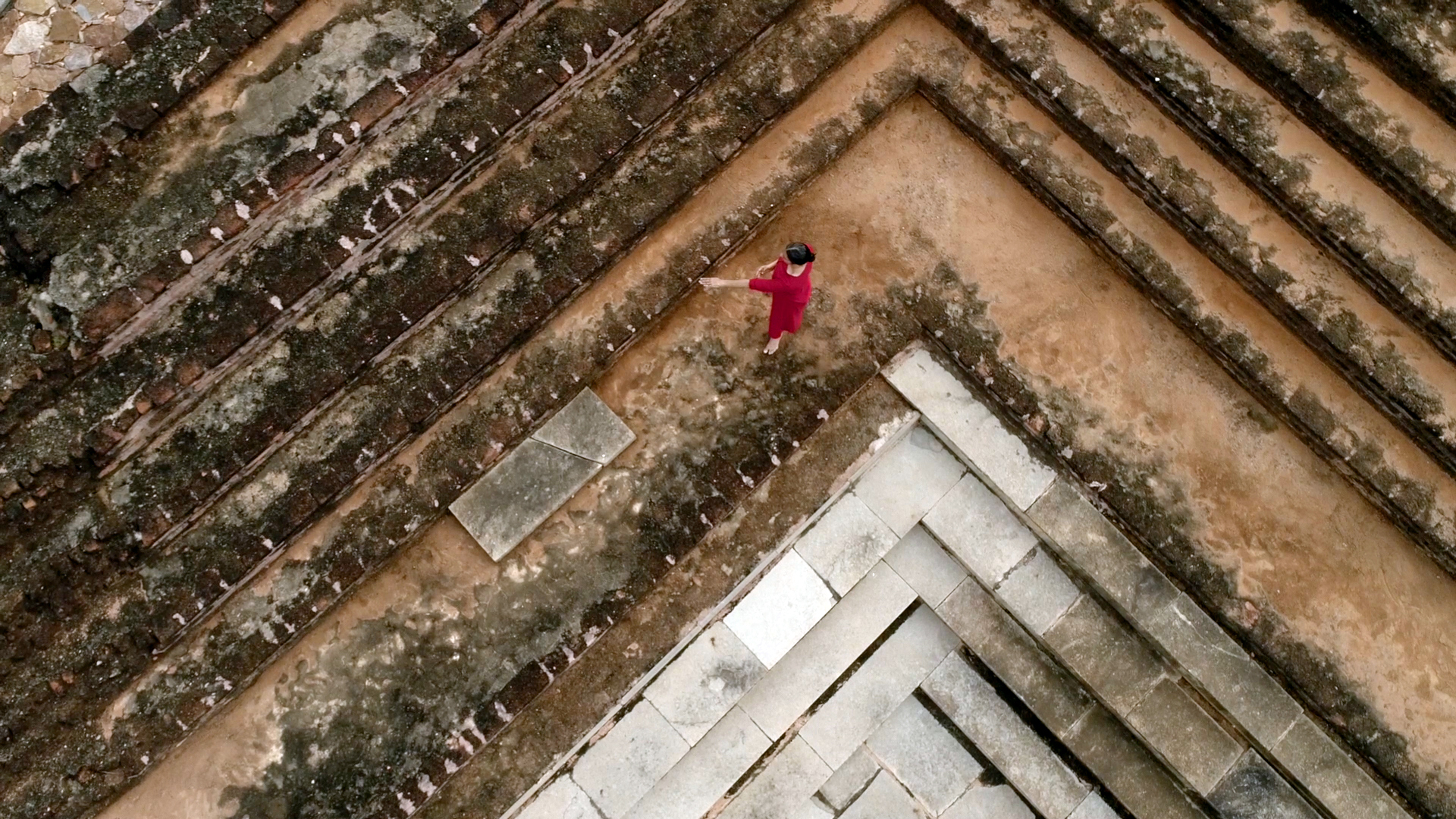 Video still, Padmini Chettur and Maarten Visser, A Slightly Curving Place, 2022. Two-channel HD video, sound. Courtesy the artists.
Shifting Center will utilize theatrical infrastructure and spatial audio technologies, such as Higher Order Ambisonics and Wave Field Synthesis, and propose techniques and practices to locate and listen to contemporary artworks that are themselves locating and listening to past events, instruments, architectures, and landscapes. The exhibition will include works from Tania Candiani, Padmini Chettur and Maarten Visser, Beatriz Cortez, Guillermo Escalón and Igor de Gandarias, Cannupa Hanska Luger, Maurice Louca, and Clarissa Tossin, among others.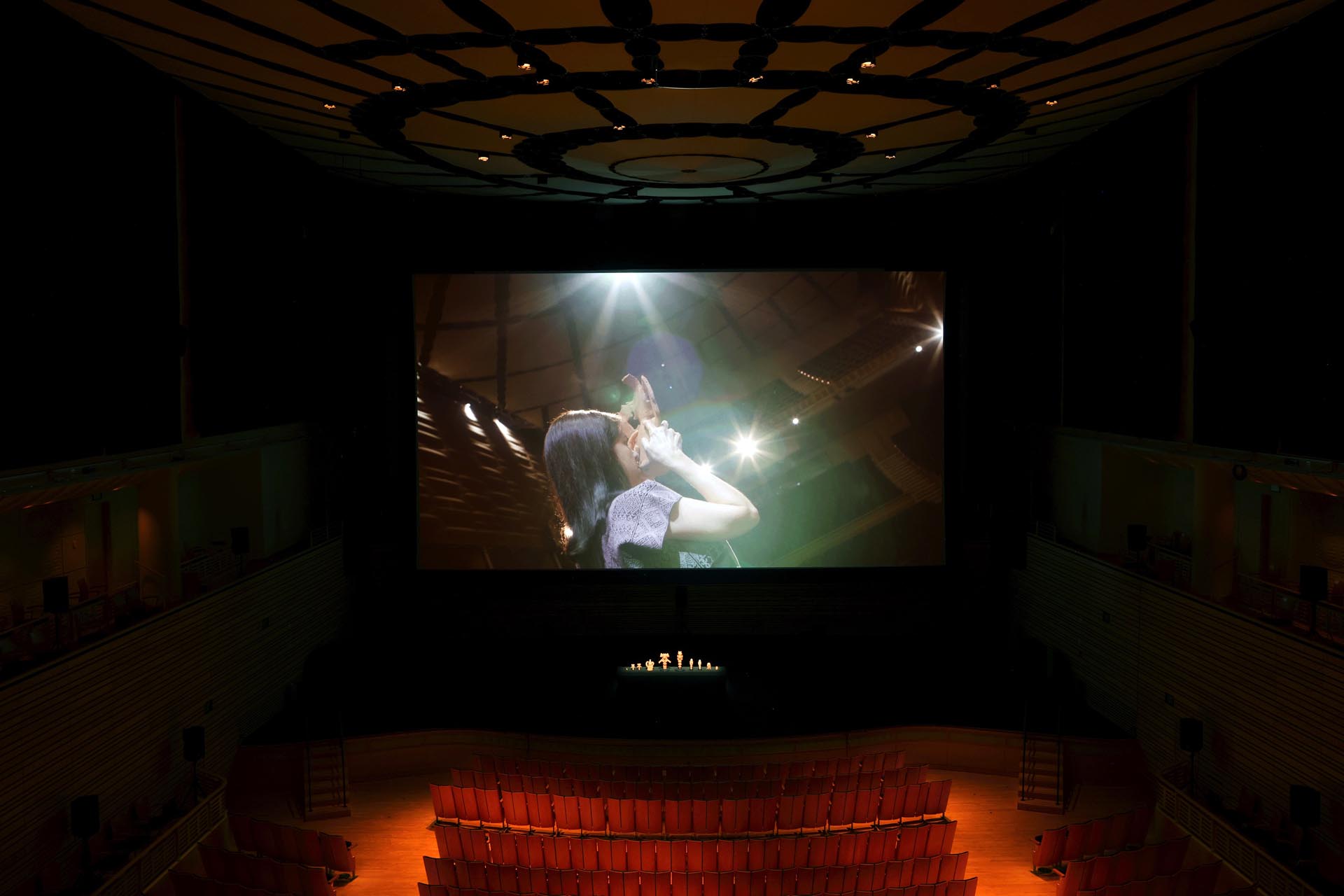 Installation view, Clarissa Tossin, Mojo'q che b'ixan ri ixkanulab' / Antes de que los volcanes canten / Before the Volcanoes Sing, 2022. HD video, sound. On view at EMPAC—Curtis R. Priem Experimental Media and Performing Arts Center, Rensselaer Polytechnic Institute, 2022. Courtesy of EMPAC. Photo credit: Kris Qua.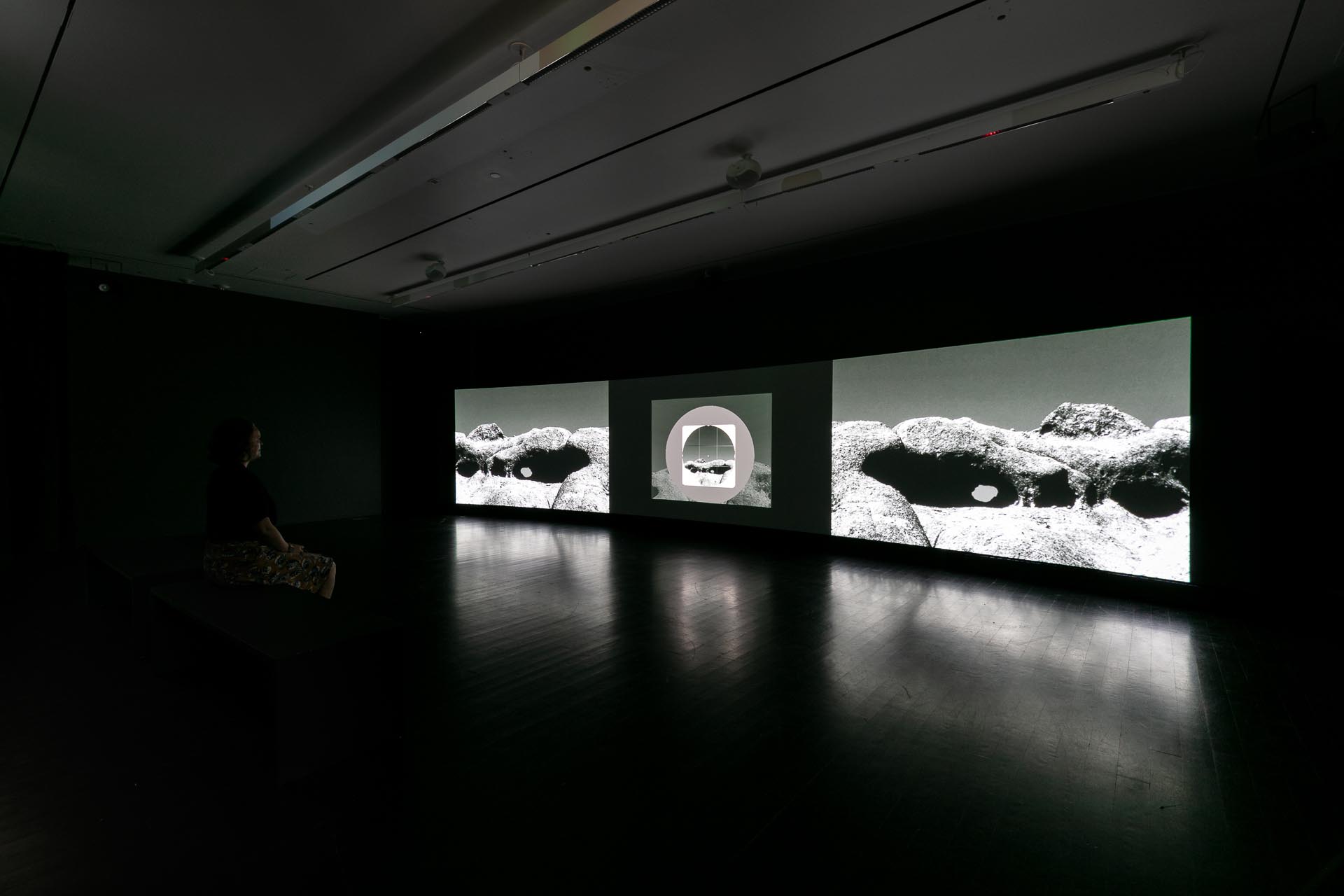 Installation view, Tania Candiani: For the Animals, 2020. Three-channel video, sound. On view at Museum of Contemporary Art Denver (June 3–August 26, 2022). Courtesy the artist. Photo credit: Wes Magyar.
The potential of listening through ancient and Indigenous instruments and repertoires, and to landscapes and architectures as sources of sounding, unites the works. Escalón's script follows composer Gandarias' experiments translating infrasounds from the seismic activity of Guatemala's Fuego volcano as an instrument of the earth. Candiani activates Hole-in-the-Rock, an Arizona geological formation that resembles a loudspeaker. Chettur and Visser position the axes of a dancing body in the mandala-like geometry of an amphitheater at the archaeological site of Nagarjunakonda, South India, displaced and relocated by the building of a hydro-electric dam. Tossin entwines the voice of K'iche' poet Rosa Chávez with Alethia Lozano Birrueta playing 3D replicas of ancient Maya flutes held in museum collections. The microtonal composition of Louca's ensemble searches for missing vowels through the imagination of animal vocalizations, magical texts and demotic songs, while the screeching frequencies of Luger's Aztek "death whistles" sound the transition between the living and the dead.
Shifting Center will extend through a partnership with Storm King Art Center and the Vera List Center for Arts and Politics at The New School to support Cortez's monumental sculpture Ilopango, The Volcano that Left (2023), which will sail up the Hudson River to EMPAC for the opening of the exhibition. The journey will be documented by Escalón for a film to be premiered in 2024.