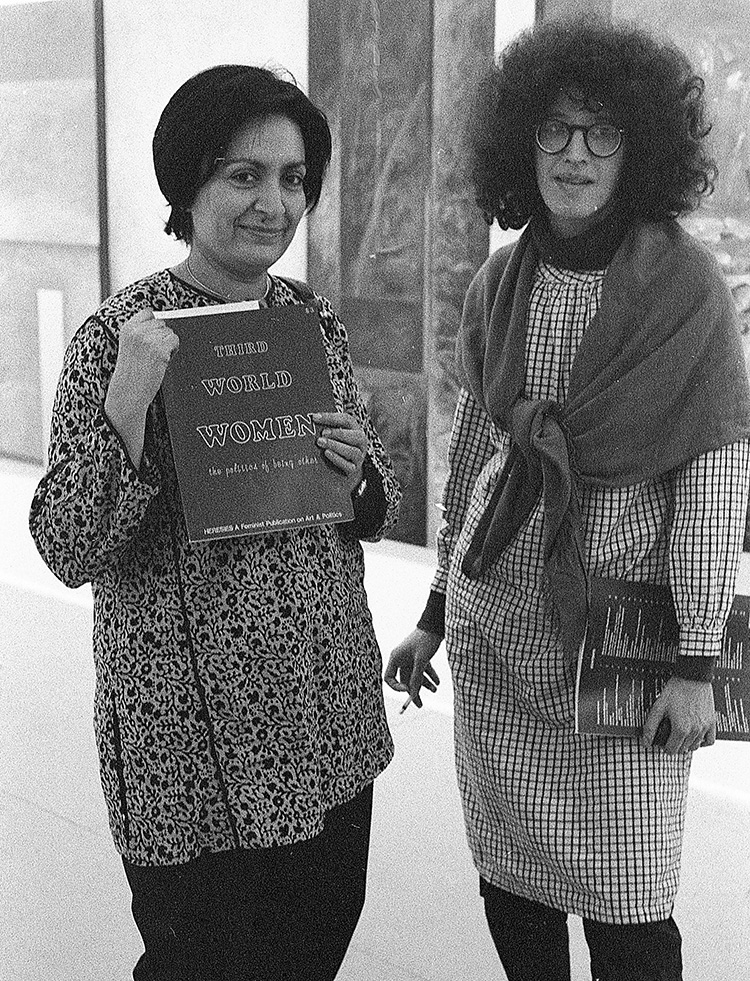 Zarina and Judy Blume Reddy at the launch of the issue "Third World Women: The Politics of Being Other" of Heresies: A Feminist Publication on Art and Politics, c. 1979. Courtesy of Adobe Krow Archives, Los Angeles, and RYAN LEE Gallery, New York.
During the 1970s, magazines and journals served as an intimate public sphere for the women's art movement, and today provide essential documentation of the second wave of feminism. Produced by the Heresies Collective, which included Joan Braderman, Mary Beth Edelson, Lucy R. Lippard, Harmony Hammond, and May Stevens, among others, issues of
Heresies: A Feminist Publication on Art and Politics
centered women artists' contributions to the arts and were organized by theme and edited by a shifting cohort of artists and thinkers. Topics included racism, ecology, gender, class, sexuality, and labor, as well as craft, new media, performance, and architecture.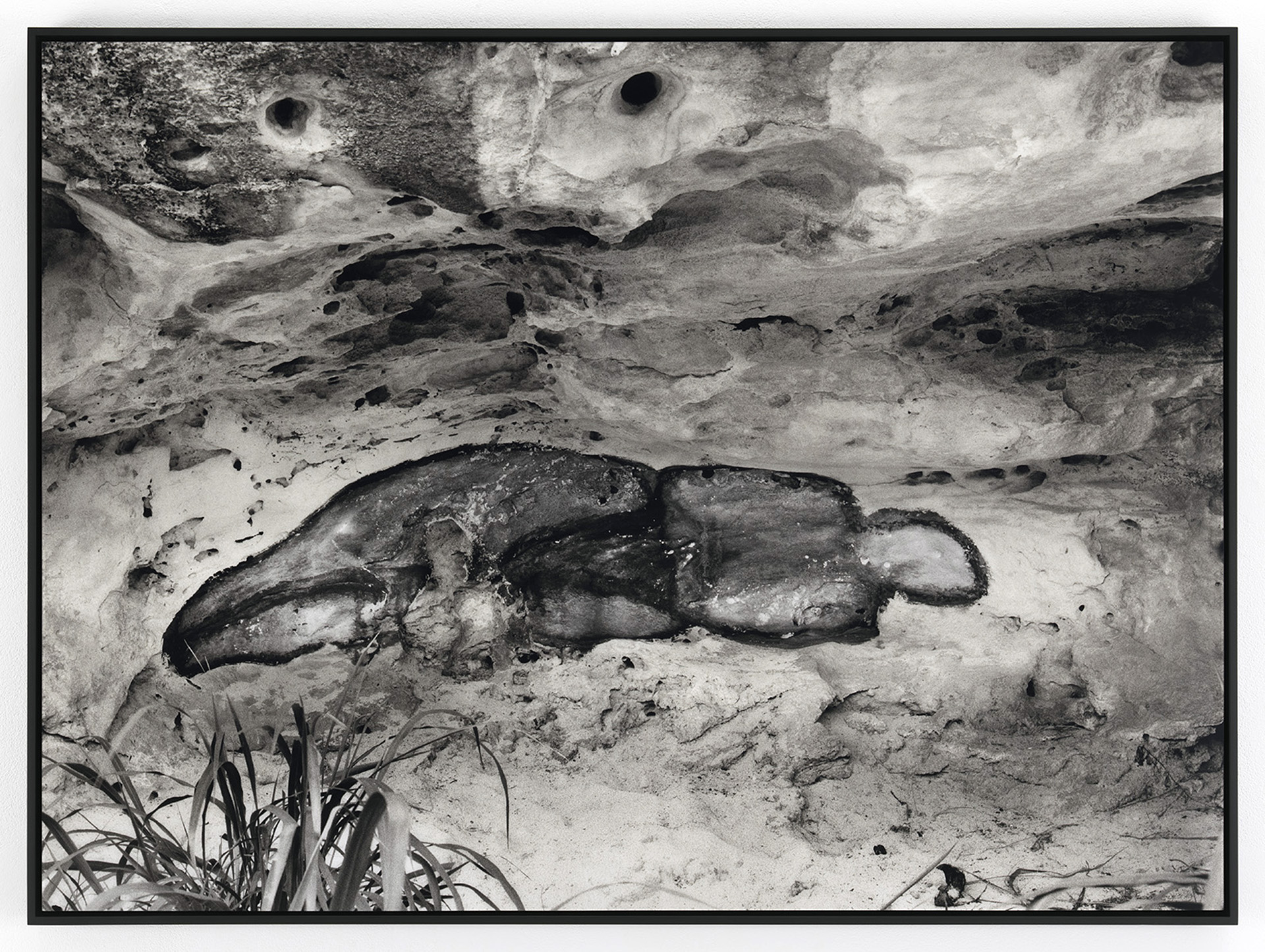 Ana Mendieta. La Venus Negra (The Black Venus), 1981. Black and white photograph. © The Estate of Ana Mendieta Collection, LLC. Courtesy Galerie Lelong & Co. Licensed by Artists Rights Society (ARS), New York.
The exhibition The Heresies Generation: Feminism, Art, and Politics, 1977-1992 will pivot around 80 artists who contributed poetry, essays, and artworks to the publication's pages. It will include works by Vivian Browne, Harmony Hammond, Ana Mendieta, Sabra Moore, Cecilia Vicuña, and Zarina, among many others. In the spirit of the original publication, The Heresies Generation will challenge and expand the scholarly and public understanding of feminism by introducing a broad American public to iconic and lesser-known artworks originally featured in the Heresies journal's pages, alongside selected archival documents and ephemera.
Antilla conceives Heresies as part of her ongoing project researching intersectional feminisms from a transnational perspective. In preparation for the exhibition, she will collaborate with an Advisory Committee of feminist scholars and original contributors to the Heresies journal, including Lippard and Moore. This committee will inform the exhibition and advise Antilla on a planned oral history project with living members of the Heresies Collective.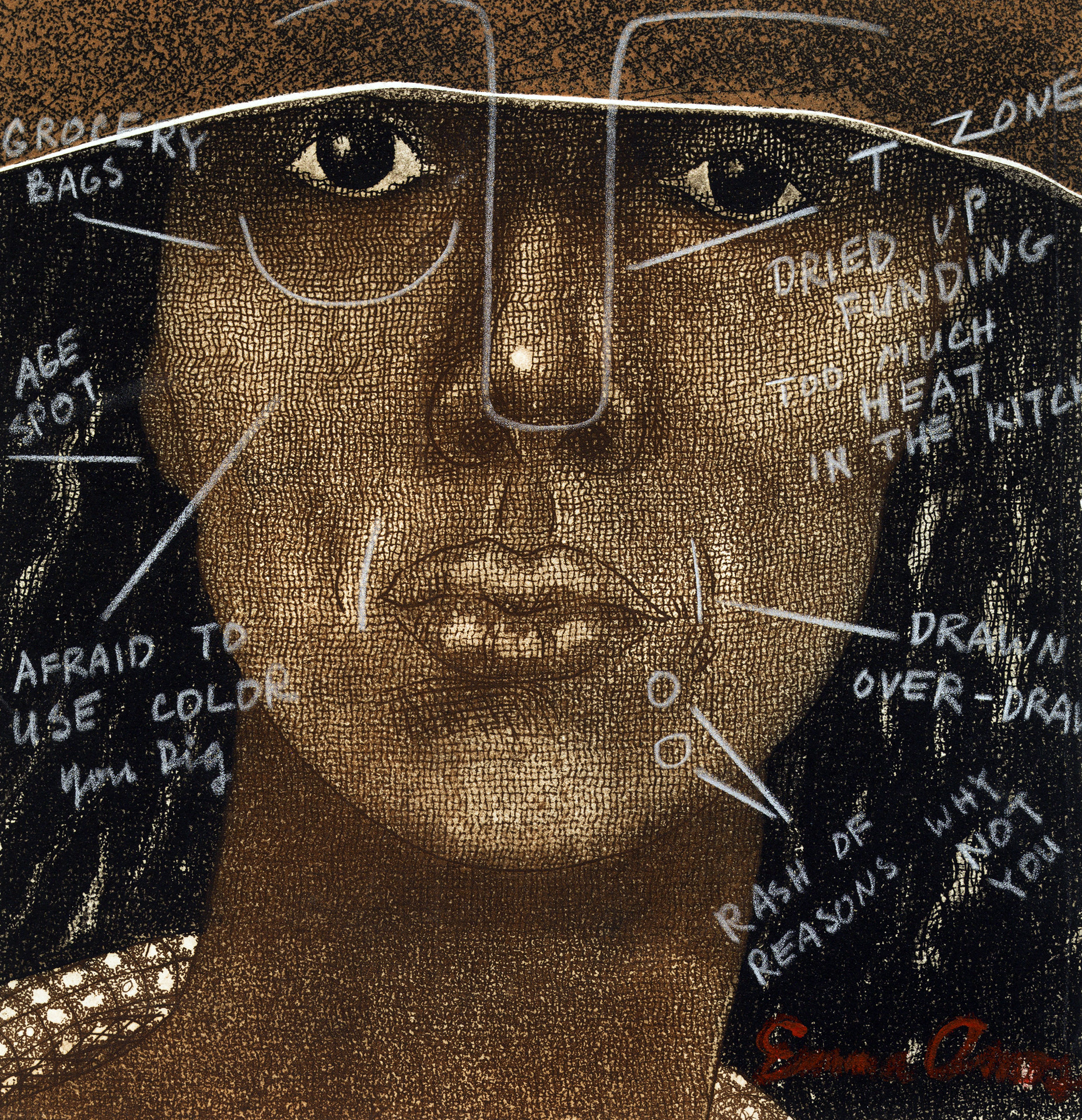 Emma Amos, Preparing for a Facelift, 1981. Charcoal, graphite, and chalk on paper. © Emma Amos. Courtesy of RYAN LEE Gallery, New York.